We like to make it easy, relaxed and friendly.
Hassle free for you
We can come along to your event, inside or outside.  We'll bring all the kit we need including chairs, tables and even a gazebo if it's needed.  All we ask of you is a little space to set up, water and light so we can see what we're doing! We'll arrive early so we're all set up and ready to go when you are.  And if there's a special person to get ready first, we'll make sure this happens!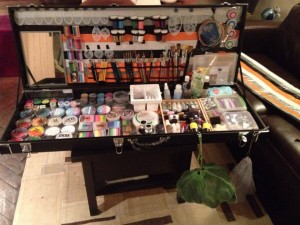 Take your pick
We can work with you to identify the best services for your event.  Some work better at some events than others.  Nails for example can take quite a while so we normally only offer this to smaller groups, but we'll be guided by you as you know your audience the best!  See some of our package ideas for inspiration.
Who typically books us
Private parties for children & tweens
Corporate or promotional themed parties and evening events (e.g. Halloween or Christmas)
One off public events, fetes or music festivals
One off school events and fundraisers
Regular or frequent events: We're proud to be associated with Music Makers, the award winning pre-school group and party entertainers. aRTy designs provide our range of services to compliment the main entertainment event.
We'll go with a theme if you like
We can dress up to add a little extra
We're partners in Snowstorm Parties offering all manner of fully managed children's party services. Check it out on Facebook
What our customers say about us
"aRTy designs came and gave a very organised & fun, no fuss service to a large bunch of eager 6 year olds! They had loads of images to choose from and for those that weren't sure about paint on their faces had the chance for a little picture on their arms. Really friendly approach that put even the shyest of the group at ease. Thank you very much!" Kathryn, Nr Wellingborough, Northamptonshire

 

"aRTy designs are so friendly. They're great with children and adults alike, and the designs they create are amazing!  It certainly helps the party atmosphere!"  Mark, Nr Raunds, Northamptonshire

"Brilliant artists! Made lots of little girls happy and sparkly at my daughters birthday party! Never thought so much detail could go into face painting. Brilliant!"  Anna, Nr Kettering, Northamptonshire
Interested?
We cover Northamptonshire, parts of Cambridgeshire, Bedfordshire and Leicestershire, so get in touch!