We love to face paint and body paint. The transformations that can be achieved are astonishing, and the reaction when our customers see them is always a joy – so it's just as much fun for us as for you!
We paint a wide variety of things, pretty much anything you ask for we can do a design. Try a traditional paint, or maybe go for a  festival style glitter or graffiti sleeve. We also do special effects nasties – like realistic looking cuts, bruises, bites and other horrid stuff!    Over the years we've been asked for all sorts – so go on, surprise us!
Unlike some face painters we don't have a set range of designs or stencils that you have to choose from, but if you need some inspiration we do have a pack of designs that you can look through.  Or you can let us choose!
The products that we use are the highest quality products available worldwide, all hypoallergenic and water based. You can read more about our standards and safety information here.
Why we do it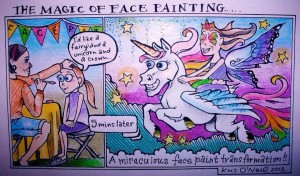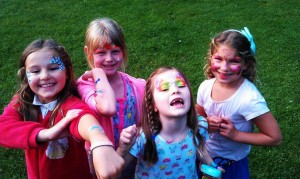 See the gallery for more images
Other things we do