If you've ever thought about getting a tattoo but never quite had the courage to go ahead, or maybe you just want to try it out for a while, why not try a temporary one with either ink or natural henna?  Take a look in our gallery to see what they're like.
Ink tattoos
The closest thing to real without the needles!  Choose designs from Chinese, Tribal, Celtic, Astrological and more…  Our tattoos are real ink, so you'd be hard pressed to spot the difference between this and the 'real thing'.  Depending on where you choose to have your tattoo and how you care for it, it could last up to 5 days.
Henna tattoos
Our henna is sourced responsibly and contains all natural ingredients. It is so gentle that it is safe for all ages, however we usually recommend that young children go for something fast drying that they are less likely to smudge! Natural henna leaves beautiful brown  marking where it has been placed on the skin whic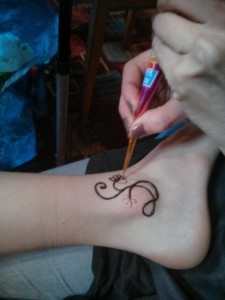 h can last for between 5 and 14 days.  We apply henna onto the skin in the pattern you choose, or we can freehand a design just for you.  We can add some glitter if you like, and then it's left to dry – usually it takes about 10-20 minutes.  Then it just flakes away gradually leaving the tattoo markings behind.
Please note: We never use black henna which is banned in many countries, including the UK, as it can cause allergic reactions similar to hair dye. 
Other things we do